One of the hardest tasks for many special educators at the secondary level is writing reasonable IEP goals that are matched to both lesson content and State Standards. This task can be challenging for a variety of reasons, including difficulty measuring students' skills, lack of curriculum and materials, and an absence of a developmental scope and sequence for learning, to name a few. As challenging as this task may be for some, tapping into the Links curriculum can surely help us tackle this critical process!
The first step in the IEP process is to obtain baseline measures of students' skills in their goal areas. Within Links, this can be accomplished by using our Lesson Assessment and Observed Routine Assessment (ORA) form (see image below).
First, our Lesson Assessment is a curriculum-based measurement that is sensitive to changes during learning. This means that we can use this tool to assess a variety of skills based in part on our observations of students' performance in specific areas. Second, the ORA is an assessment of performance within the context of a daily or community routine. Use the ORA to determine students' independence on each step of a routine (i.e., task analysis).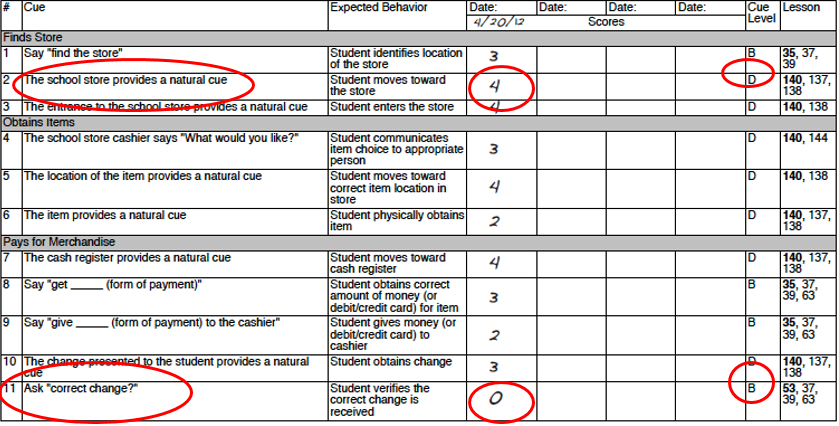 Once we have identified baseline skills, we can use the Lesson Assessment to identify the lesson content to teach and create goals based on the content.
Why is this exciting, you ask? The lessons contained in the Links curriculum are aligned to the Common Core; teaching these lessons means that students are learning skills that meet State Standards requirements. That's great news!
Click to review how the Links lesson content corresponds with Common Core State Standards. You can review by content area or by grade level.
Once you have established goal areas and baseline skills, you will need to generate your specific goals. To make this an easier process, log on to the online system and navigate to the Lessons tab. Here you will find links to pre-written goals for each of our discrete trial lessons and Standard Routines (see image below). Yes, you read that correctly.
A sample goal for each lesson has been provided for you. They will need to be individualized, of course, and you will need to make decisions about and/or adjustments to the length of the instructional periods, as well as the number of targeted skills selected for instruction and assessment.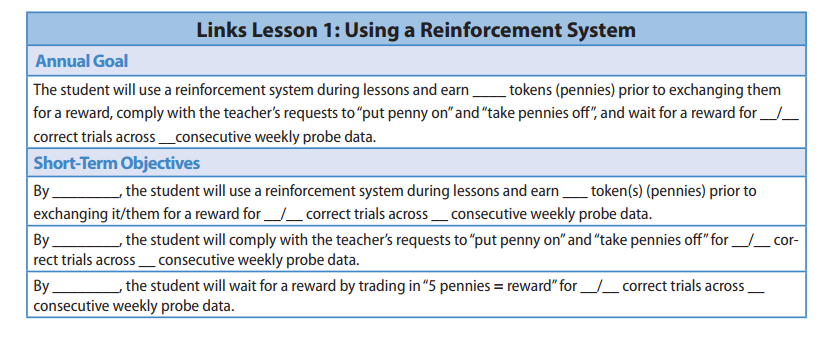 For skills taught during discrete trial, use the daily data summary form to keep a running record of the skills your students have learned as well as how long it took them to master each skill. Record the date a skill was introduced as well as the date the student met mastery criteria for that skill. This will give you some information about how quickly the student acquires new skills.
For skills taught during routines, use the Teaching Routines planning form to help identify the materials and instruction needed, as well as to set mastery criteria for their specific goals. Use your Links resources!
---
Click the image below to download a School Job Visual Strip to support the School Job Routine