Students with significant needs often face learning challenges during breaks from school—this can mean losing skills or requiring additional time to recoup previously acquired skills. Extended school year (ESY) services can help these students maintain their skills through an individualized learning plan!
The skills taught in ESY services are not new, but are rather a continuation of skills learned during the school year. The U.S. Department of Education has identified two criteria for IEP teams to evaluate eligibility for ESY: regression and recoupment. If students are likely to lose critical skills without services (regression) or require extra additional time to regain skills lost (recoupment), they may be eligible for ESY services.
Students with autism and other disabilities are at high risk for loss of skills during a gap in instruction. During these periods, it is essential that students have access to curricula and supports rooted in evidence-based practices.
Preparing for ESY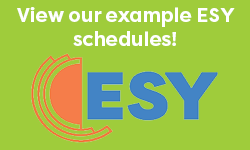 Because ESY reinforces established school-year learning, it is important to provide similar structures and instructional strategies for successful transitions and maximum effectiveness. The following are suggestions for preparing your classroom for successful ESY instruction:
Settings: Set up your classroom to resemble school-year environments including spaces for one-on-one and small-group instruction. Incorporate environmental and visual supports that students will recognize, and plan to utilize familiar routines for events such as arrival and transitions.

Schedules: Use schedules as similar to the school year as possible, and structure schedules clearly and consistently. Refer to our Primary and Secondary ESY Schedules for examples!

IEP Alignment: Consult our free IEP Alignment charts to coordinate specific IEP goals with curriculum and materials. Click here for STAR and here for Links.

Have fun: Remember to have fun during ESY! Consider using our fun summer activities, like our Popsicle® art activity or our Traveling in My Community Social Script.
ESY Support With STAR
The school year is always packed, so summer is the perfect time for teachers and staff to acquire new skills! STAR Autism Support works with districts to provide specialized professional development training during these breaks. These trainings often include an overview of the STAR and Links curricula and hands-on guidance with teachers and students to refine instructional strategies and skills. Our program can be implemented alongside ESY services and is tailored to fit any district's needs. We have developed a rotation schedule that allows teachers to work with students and STAR coaches during ESY morning classroom time and then receive professional development training in the afternoon.
Participants leave with a better understanding of instructional strategies and an action plan for their own classrooms. Students leave having received high-quality instruction using evidenced-based practices.