What routines are essential to students' success, and how can we best prepare students through functional routines? Read on for ideas to implement in your classroom!
Why teach functional routines?
All of us rely on various routines to navigate our world; from eating breakfast in the morning to finishing our day at work or school, many routines guide our daily lives. Students with autism often thrive on clearly established structures and routines, and research shows that students who are successful in following routines are more likely to have skills to work independently.
Independent work
Our newly revised Routine Essentials unit on independent work highlights the possibilities of teaching students to become increasingly self-sufficient. Media Center users, check out these visuals for a new and updated approach to independent work here. Non-Media Center users, view our Functions of Objects File Folder Activity and our Level 2 Tip Sheet (English, Español) to get started!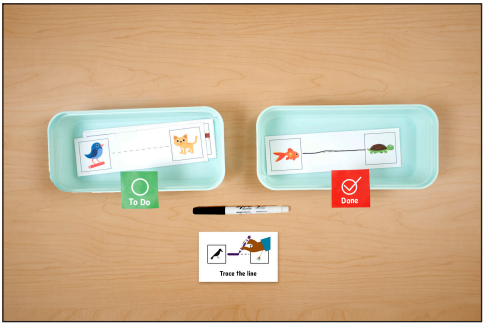 Early ideas
Evidence-based practices show that the earlier students are exposed to routines, the more successful they will be in retaining these routines. Some early routines that are essential for school include arrival, transitions, and hand-washing. Check out free resources to teach these routines below:

Remember: many routines involve a variety of steps, all of which can be broken down individually to help students. Carefully analyzing routines and their components can bring clarity to the process and product of the routine—for teachers and for students! Some questions that may help you with task analysis include:
What is the target skill that we hope for the learner to acquire?

What prerequisite skills must the learner have to accomplish this task?

What has worked (or not worked) in the past for the learner?

How does this routine support the learner's IEP goals?
See an example of a task analysis for Using an ATM routine here.